Syntax
slide.addChart({TYPE}, {DATA}, {OPTIONS});

Chart Features
Core Chart Types
Chart type can be any one of pptx.charts
Currently: pptx.charts.AREA, pptx.charts.BAR, pptx.charts.BAR3D, pptx.charts.BUBBLE, pptx.charts.DOUGHNUT, pptx.charts.LINE, pptx.charts.PIE, pptx.charts.RADAR, pptx.charts.SCATTER
Multi-Type Charts
Chart types can be any one of pptx.charts, although pptx.charts.AREA, pptx.charts.BAR, and pptx.charts.LINE will give the best results.
There should be at least two chart-types. There should always be two value axes and category axes.
Multi Charts have a different function signature than standard. There are two parameters:
chartTypes: Array of objects, each with type, data, and options objects.
options: Standard options as used with single charts. Can include axes options.
Columns makes the most sense in general. Line charts cannot be rotated to match up with horizontal bars (a PowerPoint limitation).
Can optionally have a secondary value axis.
If there is secondary value axis, a secondary category axis is required in order to render, but currently always uses the primary labels. It is recommended to use catAxisHidden: true on the secondary category axis.
Standard options are used, and the chart-type-options are mixed in to each.
Multi-Type Syntax
slide.addChart({MULTI_TYPES_AND_DATA}, {OPTIONS_AND_AXES});

Chart Notes
Zero values can be hidden using Microsoft formatting specs (see Issue #288)
Chart Options
General, Legend, Title
| Option | Type | Unit | Default | Description | Possible Values |
| --- | --- | --- | --- | --- | --- |
| x | number | inches | 1.0 | horizontal location | 0-n OR 'n%'. (Ex: {x:'50%'} places object in middle of the Slide) |
| y | number | inches | 1.0 | vertical location | 0-n OR 'n%'. |
| w | number | inches | 50% | width | 0-n OR 'n%'. (Ex: {w:'50%'} will make object 50% width of the Slide) |
| h | number | inches | 50% | height | 0-n OR 'n%'. |
| border | object | | | chart border | object with pt and color values. Ex: border:{pt:'1', color:'f1f1f1'} |
| chartColors | array | | | data colors | array of hex color codes. Ex: ['0088CC','FFCC00'] |
| chartColorsOpacity | number | percent | 100 | data color opacity percent | 1-100. Ex: { chartColorsOpacity:50 } |
| fill | string | | | fill/background color | hex color code. Ex: { fill:'0088CC' } |
| holeSize | number | percent | 50 | doughnut hole size | 1-100. Ex: { holeSize:50 } |
| invertedColors | array | | | data colors for negative numbers | array of hex color codes. Ex: ['0088CC','FFCC00'] |
| legendFontFace | string | | Arial | font face | font name. Ex: { legendFontFace:'Arial' } |
| legendFontSize | number | points | 10 | legend font size | 1-256. Ex: { legendFontSize: 13 } |
| legendColor | string | | 000000 | legend text color | hex color code. Ex: { legendColor: '0088CC' } |
| legendPos | string | | r | chart legend position | b (bottom), tr (top-right), l (left), r (right), t (top) |
| layout | object | | | positioning plot within chart area | object with x, y, w and h props, all in range 0-1 (proportionally related to the chart size). Ex: {x: 0, y: 0, w: 1, h: 1} fully expands chart within the plot area |
| radarStyle | string | | standard | radar chart style | standard, marker, filled |
| showDataTable | boolean | | false | show Data Table under the chart | true or false (Not available for Pie/Doughnut charts) |
| showDataTableKeys | boolean | | true | show Data Table Keys (color blocks) | true or false (Not available for Pie/Doughnut charts) |
| showDataTableHorzBorder | boolean | | true | show Data Table horizontal borders | true or false (Not available for Pie/Doughnut charts) |
| showDataTableVertBorder | boolean | | true | show Data Table vertical borders | true or false (Not available for Pie/Doughnut charts) |
| showDataTableOutline | boolean | | true | show Data Table table outline | true or false (Not available for Pie/Doughnut charts) |
| showLabel | boolean | | false | show data labels | true or false |
| showLegend | boolean | | false | show chart legend | true or false |
| showPercent | boolean | | false | show data percent | true or false |
| showTitle | boolean | | false | show chart title | true or false |
| showValue | boolean | | false | show data values | true or false |
| title | string | | | chart title | a string. Ex: { title:'Sales by Region' } |
| titleAlign | string | | center | chart title text align | left center or right Ex: { titleAlign:'left' } |
| titleColor | string | | 000000 | title color | hex color code. Ex: { titleColor:'0088CC' } |
| titleFontFace | string | | Arial | font face | font name. Ex: { titleFontFace:'Arial' } |
| titleFontSize | number | points | 18 | font size | 1-256. Ex: { titleFontSize:12 } |
| titlePos | object | | | title position | object with x and y values. Ex: { titlePos:{x: 0, y: 10} } |
| titleRotate | integer | degrees | | title rotation degrees | 0-360. Ex: { titleRotate:45 } |
Cat and Val Axis
| Option | Type | Unit | Default | Description | Possible Values |
| --- | --- | --- | --- | --- | --- |
| axisLineColor | string | | 000000 | cat/val axis line color | hex color code. Ex: { axisLineColor:'0088CC' } |
| catAxisBaseTimeUnit | string | | | category-axis base time unit | days months or years |
| catAxisHidden | boolean | | false | hide category-axis | true or false |
| catAxisLabelColor | string | | 000000 | category-axis color | hex color code. Ex: { catAxisLabelColor:'0088CC' } |
| catAxisLabelFontBold | boolean | | false | make cat axis label bold | true or false |
| catAxisLabelFontFace | string | | Arial | category-axis font face | font name. Ex: { titleFontFace:'Arial' } |
| catAxisLabelFontSize | integer | points | 18 | category-axis font size | 1-256. Ex: { titleFontSize:12 } |
| catAxisLabelFrequency | integer | | | PPT "Interval Between Labels" | 1-n. Ex: { catAxisLabelFrequency: 2 } |
| catAxisLabelPos | string | string | nextTo | category-axis label position | low, high, or nextTo . Ex: { catAxisLabelPos: 'low' } |
| catAxisLabelRotate | integer | degrees | | category-axis rotation degrees | 0-360. Ex: { catAxisLabelRotate:45 } |
| catAxisLineShow | boolean | | true | show/hide category-axis line | true or false |
| catAxisMajorTimeUnit | string | | | category-axis major time unit | days, months or years |
| catAxisMaxVal | integer | | | category-axis max value | Integer. Ex: { catAxisMaxVal:10 } |
| catAxisMinVal | integer | | | category-axis min value | Integer. Ex: { catAxisMinVal:0 } |
| catAxisMinorTimeUnit | string | | | category-axis minor time unit | days, months or years |
| catAxisMajorUnit | integer | | | category-axis major unit | Positive integer. Ex: { catAxisMajorUnit:12 } |
| catAxisMinorUnit | integer | | | category-axis minor unit | Positive integer. Ex: { catAxisMinorUnit:1 } |
| catAxisOrientation | string | | minMax | category-axis orientation | maxMin (high->low) or minMax (low->high) |
| catAxisTitle | string | | Axis Title | axis title | a string. Ex: { catAxisTitle:'Regions' } |
| catAxisTitleColor | string | | 000000 | title color | hex color code. Ex: { catAxisTitleColor:'0088CC' } |
| catAxisTitleFontFace | string | | Arial | font face | font name. Ex: { catAxisTitleFontFace:'Arial' } |
| catAxisTitleFontSize | integer | points | | font size | 1-256. Ex: { catAxisTitleFontSize:12 } |
| catAxisTitleRotate | integer | degrees | | title rotation degrees | 0-360. Ex: { catAxisTitleRotate:45 } |
| catGridLine | object | | none | category grid line style | object with properties size (pt), color and style ('solid', 'dash' or 'dot') or 'none' to hide |
| showCatAxisTitle | boolean | | false | show category (vert) title | true or false. Ex:{ showCatAxisTitle:true } |
| showValAxisTitle | boolean | | false | show values (horiz) title | true or false. Ex:{ showValAxisTitle:true } |
| valAxisHidden | boolean | | false | hide value-axis | true or false |
| valAxisLabelColor | string | | 000000 | value-axis color | hex color code. Ex: { valAxisLabelColor:'0088CC' } |
| valAxisLabelFontBold | boolean | | false | make val axis label bold | true or false |
| valAxisLabelFontFace | string | | Arial | value-axis font face | font name. Ex: { titleFontFace:'Arial' } |
| valAxisLabelFontSize | integer | points | 18 | value-axis font size | 1-256. Ex: { titleFontSize:12 } |
| valAxisLabelFormatCode | string | | General | value-axis number format | format string. Ex: { axisLabelFormatCode:'#,##0' } MicroSoft Number Format Codes |
| valAxisLineShow | boolean | | true | show/hide value-axis line | true or false |
| valAxisMajorUnit | number | | 1.0 | value-axis tick steps | Float or whole number. Ex: { majorUnit:0.2 } |
| valAxisMaxVal | number | | | value-axis maximum value | 1-N. Ex: { valAxisMaxVal:125 } |
| valAxisMinVal | number | | | value-axis minimum value | 1-N. Ex: { valAxisMinVal: -10 } |
| valAxisOrientation | string | | minMax | value-axis orientation | maxMin (high->low) or minMax (low->high) |
| valAxisTitle | string | | Axis Title | axis title | a string. Ex: { valAxisTitle:'Sales (USD)' } |
| valAxisTitleColor | string | | 000000 | title color | hex color code. Ex: { valAxisTitleColor:'0088CC' } |
| valAxisTitleFontFace | string | | Arial | font face | font name. Ex: { valAxisTitleFontFace:'Arial' } |
| valAxisTitleFontSize | number | points | | font size | 1-256. Ex: { valAxisTitleFontSize:12 } |
| valAxisTitleRotate | integer | degrees | | title rotation degrees | 0-360. Ex: { valAxisTitleRotate:45 } |
| valGridLine | object | | | value grid line style | object with properties size (pt), color and style ('solid', 'dash' or 'dot') or 'none' to hide |
Bar, Data, Line
Option
Type
Unit
Default
Description
Possible Values
barDir
string
col
bar direction
(Bar Chart) bar (horizontal) or col (vertical). Ex: {barDir:'bar'}
barGapWidthPct
number
percent
150
width % between bar groups
(Bar Chart) 0-999. Ex: { barGapWidthPct:50 }
barGrouping
string
clustered
bar grouping
(Bar Chart) clustered or stacked or percentStacked.
catLabelFormatCode
string
format to show data value
format string. Ex: { catLabelFormatCode:'#,##0' } MicroSoft Number Format Codes
dataBorder
object
data border
object with pt and color values. Ex: border:{pt:'1', color:'f1f1f1'}
dataLabelColor
string
000000
data label color
hex color code. Ex: { dataLabelColor:'0088CC' }
dataLabelFormatCode
string
format to show data value
format string. Ex: { dataLabelFormatCode:'#,##0' } MicroSoft Number Format Codes
dataLabelFormatScatter
string
custom
label format
(Scatter Chart) custom,customXY,XY
dataLabelFontBold
boolean
false
make data label bold
Ex: { dataLabelFontBold:true }
dataLabelFontFace
string
Arial
value-axis font face
font name. Ex: { titleFontFace:'Arial' }
dataLabelFontSize
number
points
18
value-axis font size
1-256. Ex: { titleFontSize:12 }
dataLabelPosition
string
bestFit
data label position
bestFit,b,ctr,inBase,inEnd,l,outEnd,r,t
dataNoEffects
boolean
false
whether to omit effects on data
(Doughnut/Pie Charts) true or false
displayBlanksAs
string
span
whether to draw line or gap
(Line Charts) span or gap
gridLineColor
string
000000
grid line color
hex color code. Ex: { gridLineColor:'0088CC' }
lineDataSymbol
string
circle
symbol used on line marker
circle,dash,diamond,dot,none,square,triangle
lineDataSymbolSize
number
points
6
size of line data symbol
1-256. Ex: { lineDataSymbolSize:12 }
lineDataSymbolLineSize
number
points
0.75
size of data symbol outline
1-256. Ex: { lineDataSymbolLineSize:12 }
lineDataSymbolLineColor
number
points
0.75
size of data symbol outline
1-256. Ex: { lineDataSymbolLineSize:12 }
lineSize
number
points
2
thickness of data line (0 is no line)
0-256. Ex: { lineSize: 1 }
lineSmooth
boolean
false
whether to smooth lines
true or false
Ex: { lineSmooth: true }
shadow
object
data element shadow options
'none' or shadow options
valueBarColors
boolean
false
forces chartColors on multi-data-series
true or false
3D Bar Chart
| Option | Type | Unit | Default | Description | Possible Values |
| --- | --- | --- | --- | --- | --- |
| bar3DShape | string | | box | bar 3d shape | box, cylinder, coneToMax, pyramid, pyramidToMax |
| barGapDepthPct | number | percent | 150 | width % between bar groups | 0-999. Ex: { barGapWidthPct:50 } |
| dataLabelBkgrdColors | boolean | | false | bkgd color is series color | true or false |
| serAxisBaseTimeUnit | string | | | series-axis base time unit | days months or years |
| serAxisHidden | boolean | | false | hide series-axis | true or false |
| serAxisOrientation | string | | minMax | series-axis orientation | maxMin (high->low) or minMax (low->high) |
| serAxisLabelColor | string | | 000000 | series-axis color | hex color code. Ex: { serAxisLabelColor:'0088CC' } |
| serAxisLabelFontBold | boolean | | false | make cat axis label bold | true or false |
| serAxisLabelFontFace | string | | Arial | series-axis font face | font name. Ex: { titleFontFace:'Arial' } |
| serAxisLabelFontSize | integer | points | 18 | series-axis font size | 1-256. Ex: { titleFontSize:12 } |
| serAxisLabelFrequency | integer | | | PPT "Interval Between Labels" | 1-n. Ex: { serAxisLabelFrequency: 2 } |
| serAxisLabelPos | string | string | nextTo | axis label position | low, high, or nextTo . Ex: { serAxisLabelPos: 'low' } |
| serAxisLineShow | boolean | | true | show/hide series-axis line | true or false |
| serAxisMajorTimeUnit | string | | | series-axis major time unit | days, months or years |
| serAxisMajorUnit | integer | | | series-axis major unit | Positive integer. Ex: { serAxisMajorUnit:12 } |
| serAxisMinorTimeUnit | string | | | series-axis minor time unit | days, months or years |
| serAxisMinorUnit | integer | | | series-axis minor unit | Positive integer. Ex: { serAxisMinorUnit:1 } |
| serAxisTitle | string | | Axis Title | axis title | a string. Ex: { serAxisTitle:'Regions' } |
| serAxisTitleColor | string | | 000000 | title color | hex color code. Ex: { serAxisTitleColor:'0088CC' } |
| serAxisTitleFontFace | string | | Arial | font face | font name. Ex: { serAxisTitleFontFace:'Arial' } |
| serAxisTitleFontSize | integer | points | | font size | 1-256. Ex: { serAxisTitleFontSize:12 } |
| serAxisTitleRotate | integer | degrees | | title rotation degrees | 0-360. Ex: { serAxisTitleRotate:45 } |
| serGridLine | object | | none | series grid line style | object with properties size (pt), color and style ('solid', 'dash' or 'dot') or 'none' to hide |
| v3DRAngAx | boolean | | true | Right angle axes | true or false |
| v3DPerspective | integer | points | 18 | series-axis font size | 1-240. Ex: { v3DPerspective:125 } |
| v3DRotX | integer | degrees | | x-axis rotation degrees | -90 - 90. Ex: { v3DRotX:-45 } |
| v3DRotY | integer | degrees | | title rotation degrees | 0-360. Ex: { v3DRotY:180 } |
Element Shadows
| Option | Type | Unit | Default | Description | Possible Values |
| --- | --- | --- | --- | --- | --- |
| type | string | | outer | shadow type | outer or inner. Ex: { type:'outer' } |
| angle | number | degrees | 90 | shadow angle | 0-359. Ex: { angle:90 } |
| blur | number | points | 3 | blur size | 1-256. Ex: { blur:3 } |
| color | string | | 000000 | shadow color | hex color code. Ex: { color:'0088CC' } |
| offset | number | points | 1.8 | offset size | 1-256. Ex: { offset:2 } |
| opacity | number | percent | 0.35 | opacity | 0-1. Ex: { opacity:0.35 } |
Multi-Type Options
| Option | Type | Default | Description | Possible Values |
| --- | --- | --- | --- | --- |
| catAxes | array | | array of two axis options objects | See example below |
| secondaryCatAxis | boolean | false | If data should use secondary category axis (or primary) | true or false |
| secondaryValAxis | boolean | false | If data should use secondary value axis (or primary) | true or false |
| valAxes | array | | array of two axis options objects | See example below |
Chart Examples
Tons of Sample Code

Please check the examples/pptxgenjs-demo.js file for almost 3,000 lines of well-documented examples, including charts.

There are lots of Slides filled with Charts you can copy: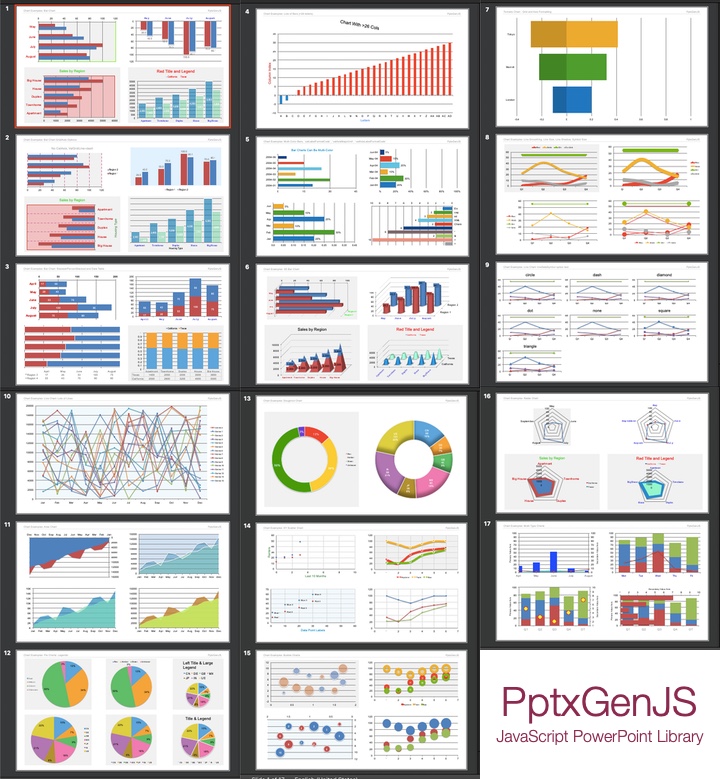 Line Chart Sample
var

 pptx = 

new

 PptxGenJS();


var

 slide = pptx.addNewSlide();



// Chart Type: LINE




var

 dataChartAreaLine = [
  {
    

name

  : 

'Actual Sales'

,
    

labels

: [

'Jan'

,

'Feb'

,

'Mar'

,

'Apr'

,

'May'

,

'Jun'

,

'Jul'

,

'Aug'

,

'Sep'

,

'Oct'

,

'Nov'

,

'Dec'

],
    

values

: [

1500

, 

4600

, 

5156

, 

3167

, 

8510

, 

8009

, 

6006

, 

7855

, 

12102

, 

12789

, 

10123

, 

15121

]
  },
  {
    

name

  : 

'Projected Sales'

,
    

labels

: [

'Jan'

,

'Feb'

,

'Mar'

,

'Apr'

,

'May'

,

'Jun'

,

'Jul'

,

'Aug'

,

'Sep'

,

'Oct'

,

'Nov'

,

'Dec'

],
    

values

: [

1000

, 

2600

, 

3456

, 

4567

, 

5010

, 

6009

, 

7006

, 

8855

, 

9102

, 

10789

, 

11123

, 

12121

]
  }
];
slide.addChart( pptx.charts.LINE, dataChartAreaLine, { 

x

:

1.0

, 

y

:

1.0

, 

w

:

12

, 

h

:

6

 } );

pptx.save(

'Demo-Line-Chart'

);